Our governance
As a fiduciary with complex responsibilities, HSBC Asset Management believes it is fundamental to have a robust and transparent governance framework.
We have a legal entity-based structure that aligns with the countries in which we operate. Each business is ultimately a wholly owned subsidiary of HSBC Holdings plc (HSBC Group), one of the largest financial services organisations in the world.
The Board of each of our regulated legal entities includes Executive Directors and a minimum of one Non-Executive Director who serves as the Chair. Non-Executive Directors are sourced from within the HSBC Group and are deemed to be independent provided they do not have line or functional responsibility for any activities of the specific legal entity or any of its subsidiaries. Certain legal entities have Non-executive Directors who are independent from the HSBC Group in order to comply with regulatory requirements and/or local best practices.
Our fund ranges have a Supervisory Body aligned to its respective legal structure, regulatory requirements, and business practices. We believe that where possible these Supervisory Bodies should include members that are independent from the HSBC Group as well as HSBC Asset Management members.
Board and Supervisory Body appointments are based on merit and candidates are considered against objective and transparent criteria, having due regard for the benefits of diversity, including amongst other things, skills, experience, age, gender, ethnic and diversity of backgrounds.
HSBC group governance
We are organisationally aligned within the HSBC Group's Wealth and Personal Banking ("WPB") business. As a result, the HSBC Asset Management Chief Executive Officer ("CEO") has a direct reporting line to the Global CEO of WPB, who in turn has a direct reporting line to the Group's CEO. Our senior executives report into the HSBC Asset Management CEO with additional functional reporting into lines, where relevant.
Global management structure
Achieving our vision requires the organisation to be dependable and to do the right thing; open to new ideas; and connected, as a single asset management team. Above all, HSBC Asset Management and our employees must act with courageous integrity by making decisions in the interests of our clients and other stakeholders, without compromising the ethical standards and integrity on which the organisation was built.
The Global Management Committee is responsible for overseeing the implementation of our strategy and ensuring an appropriate control framework and culture is operating effectively. While continually balancing the needs of various stakeholders, the Committee and its members give precedence to client and regulatory needs.

Nicolas Moreau
Global Chief Executive Officer

Nicolas Moreau joined HSBC Asset Management on 2 September 2019 as Chief Executive Officer.

Nicolas has 30 years of experience in the asset management and insurance industries. Before this appointment, Nicolas spent two years at Deutsche Bank as the Management Board member responsible for Deutsche Asset Management. As the Global CEO, Nicolas led the business to be listed on the Frankfurt Stock Exchange in March 2018 and rebranded the business to DWS. Previously, Nicolas spent 25 years with AXA Group. He was Chairman and CEO of AXA France and a member of the AXA Group Management Committee, as well as Vice Chairman of the Group Investment Committee. Nicolas has also been CEO of AXA Investment Managers and CEO of AXA UK & Ireland. He began his career with Arthur Andersen.

Nicolas is a graduate of the Ecole Polytechnique and has an actuarial degree from the Centre d'Etudes Actuarielles. He was awarded la Legion d'honneur in 2015, for his services to the French financial industry. Nicolas is a Director of the Investment Association.

Xavier Baraton
Global Chief Investment Officer

Xavier Baraton is Global Chief Investment Officer for HSBC Asset Management.

He joined HSBC in September 2002 to head the Paris-based Credit Research team and became Global Head of Credit Research in January 2004. From 2006, Xavier managed euro credit strategies before being appointed as Head of European Fixed Income in 2008 and as Global CIO, Fixed Income in 2010. In this role, Xavier moved to our New York office in 2011 and became regional CIO North America.

Having returned to Europe, he has taken on additional responsibilities as CIO for Alternatives and Real Assets in 2016 and for Private Debt in 2019, before being appointed as Global CIO of HSBC Asset Management in July 2021.

Prior to joining HSBC, Xavier spent six years at Credit Agricole CIB, including five years as Head of Credit Research. Xavier began his career in 1994 in the CCF Group. Xavier graduated from the "Ecole Centrale Paris" as an engineer with a degree in Economics and Finance in 1993 and holds a postgraduate degree in Money, Finance and Banking from Paris Panthéon Sorbonne University in 1994.

Edmund Stokes
Global Chief Operating Officer

Edmund Stokes is Global Chief Operating Officer and is based in the UK.

Prior to taking on his current role, Edmund was Global Head of Product and prior to that COO of HSBC Asset Management Asia Pacific. Edmund has extensive experience in asset management and capital markets having joined HSBC in 1993, initially in Global Banking & Markets.

He has undertaken a variety of Client Management, Business Development, Structuring and Management roles in the UK, Hong Kong and Germany. Having studied Business at Sheffield Polytechnic and Japanese at Durham University, Edmund qualified as an Associate of both the Chartered Institute of Bankers and the Association of Corporate Treasurers.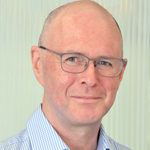 Alan Corr
Global Chief Financial Officer

Alan Corr has joined HSBC in 2023 as Global Chief Financial Officer and is based in Hong Kong.

He has over 20 years of experience in the asset management and retail wealth management sectors. He has previously worked at Fidelity International and Macquarie Group as CFO and COO, respectively. Alan's experience includes business transformation, multiple M&A transactions and the management of offshore support centres.

At HSBC, Alan is also a member of the Global Management Committee, the Global Leadership team and the Global Risk Management Committee.

Alan is a graduate of Trinity College Dublin and a member of the Institute of Chartered Accountants England and Wales.

Daisy Ho
CEO, Asia Pacific

Daisy Ho joined HSBC Asset Management in November 2021 as CEO, Asia-Pacific and Hong Kong. Based in Hong Kong, Daisy leads the business in Asia-Pacific and drives the business expansion agenda across core markets including China, India and ASEAN.

Daisy has over 20 years of experience in the asset management industry. Prior to joining HSBC, she spent 16 years with Fidelity International covering a number of senior management roles including President for China and Managing Director, Asia ex-Japan & Middle East. Before that, she held various senior positions in the wealth management and asset management divisions of JPMorgan, AXA and Hang Seng Bank.

Daisy holds a bachelor's degree in Business Studies from The Hong Kong Polytechnic University and an Executive Master of Business Administration from The University of Western Ontario.

Natasha Cork
Chief Risk and Compliance Officer

Natasha Cork is Chief Risk and Compliance Officer for HSBC Asset Management, located in London. Natasha has over 25 years of experience in financial services and joined HSBC Asset Management in 2001 where she has held various roles in the Compliance team. In May 2023 Natasha was appointed the Chief Risk and Compliance Officer for Asset Management with responsibility for Risk and Compliance globally. Natasha is a Director of HSBC Investment Funds (Luxembourg) and holds a BA Hons in Philosophy from Bristol University.

Matteo Pardi
Head of International Markets

Matteo Pardi is the Head of International Markets for HSBC Asset Management. In his role, Matteo is responsible for revenue growth plans for each country and increasing the connectivity between the Western International Markets (Canada, Mexico, Argentina, Bermuda, Turkey, Malta), the Global Network Markets (US, UK, France, Germany, and Hong Kong) and Eastern International Markets (India, China, Taiwan) - under the Asia Pacific CEO. Since February 2023, he is also in charge of the MENA region for HSBC Asset Management.

Matteo joined HSBC in 2001 to establish HSBC Asset Management's presence in Italy and in 2007 became Head of Southern Europe (Italy, Iberia, Greece). From 2011 to 2013, he was HSBC Asset Management's Head of Wholesale for Continental Europe. From 2013 to 2022 he was the CEO of HSBC Asset Management (France) covering several Continental Europe countries.

Prior to joining HSBC, Matteo worked in Paris for Banque Sovac Lazard Group and GE Capital, and in Milan for Citigroup and JPMorgan Asset Management.

Nirmal Kumar
Global Head of HR

Nirmal Kumar was appointed Global Head of HR, HSBC Asset management in May 2021.

Nirmal is also the Global Head of HR for Retail Banking & Strategy, Wealth & Personal Banking (WPB). Nirmal joined the HSBC Group in India in 2010 and moved to UK as Global Head of Performance & Reward for WPB in 2014. He has held HR roles across a number of businesses in HSBC including Wealth, Retail, Digital & COO.

Nirmal began his career with Coca Cola and prior to HSBC, he was a consultant with Aon and Mercer advising boards and senior management on M&A, Executive compensation, Retirement, Health & Benefits and Talent management across the Asia and Middle East markets. He started his career in India and has worked in Malaysia, UK and Singapore.

He has a degree in Commerce and an MBA in HR & Finance. He lives in Oxford with his wife and 2 children.

Joanna Munro
CEO HSBC Alternatives

Joanna Munro is CEO for HSBC Alternatives, based in London.

Her most recent role was as Global Chief Investment Officer (from September 2019 to June 2021) and prior to that Global Head of Stewardship and Fiduciary Governance (from 2014) and Chair of the UK asset management business (from 2016). Joanna's previous roles included Regional CEO for HSBC Global Asset Management in Asia and CEO for HSBC Multimanager. She joined HSBC in 2005 as Global Chief Investment Officer for HSBC Investments, including Multimanager, Liquidity, Asset Allocation and Solutions.

Joanna started working in the industry in 1986, working for Prudential Portfolio Managers as an Equity analyst, BARRA Inc. as an adviser to pension funds on their manager risk, Salomon Brothers Asset Management in the multi-currency fixed income team and ABN AMRO Asset Management where she set up the fund of hedge fund capability as Head of Alternatives. In 2000 she joined AXA Investment Managers and ran business development activities globally for fixed income and the structured asset management business before, in 2003, being appointed Director, Head of UK Institutional where she led the UK sales and global consultant relations teams.

Joanna has a BA (Hons) in Mathematics and Engineering from Queens' College in Cambridge, an MSc in Economics from the London School of Economics and an MBA from Stanford University as well as an MA in Creative Writing from Goldsmiths London. She is also an ASIP (Associate of the Society of Investment Professionals) and a founding member of the Diversity Project.

Stuart White
Chief Executive Officer, HSBC Global Asset Management (UK) Ltd, Global Head of Strategy, HSBC Global Asset Management Ltd

Stuart is the Chief Executive Officer and Board Director of the c. USD130 billion AuM HSBC Global Asset Management (UK) Ltd. In addition, Stuart is the Global Head of Strategy for HSBC Global Asset Management, the c. USD600 billion asset manager of the HSBC Group, responsible for its strategy, M&A and corporate management activities. Stuart is a member of the Global Management Committee, the Global Leadership team and the Global Risk Management Committee. Stuart is the accountable executive for the HSBC Global Asset Management's global Diversity Equity & Inclusion programme including 11 workstreams and over 250 volunteers across 14 countries.

Stuart is a Board Director of HSBC Global Asset Management (UK) Ltd and Hang Seng Investment Management Ltd in Hong Kong. Stuart is also a Trustee Director of the c.£37 billion HSBC Bank Pension Trust (UK) Limited (HSBC Bank UK DB & DC Pension schemes), and is chair of the Trust's Investment Committee.

Stuart has been with HSBC since 2010 and prior to that he worked at Insight Investment for 5 years and started his investment management career at Threadneedle Asset Management in the 1998.

Stuart graduated with a BSc honours degree in Chemistry and European Studies (German) from the University of Sussex and the University of Freiburg. He holds a MBA from London Business School, holds the CFA Investment Management Certificate, CFA ESG in Investing Certificate and the PMI Award in Pension Trusteeship. Stuart is on the Advisory Board of the UK's Diversity Project and a member of the CEO committee. Stuart is also a member of the UK Investment Association's Trade & Investment committee.

Erin Leonard
Global Head of Sustainability

Erin Leonard is the Head of Sustainability for HSBC Asset Management and is responsible for the delivery of our sustainability business and product strategy, and the transition to sustainable investing across all parts of our business.

She joined HSBC in 2010 and has worked in a number of roles, including Interim Head of Institutional Client Business, Global Head of Fixed Income Product and EMEA Head of Product Development. She has also led strategic business initiatives including the development of a UK Master Trust business and Asset Management's firm-wide Responsible Investment Initiative. Erin currently serves as Chair of the HSBC Global Liquidity Funds Board and as Director of Climate Asset Management and RadiantESG Asset Management.

She has over 25 years of asset management industry experience, with Fixed Income portfolio management and business management roles for Wells Fargo Asset Management, Aegon Asset Management, Lehman Brothers and Neuberger Berman. Erin is a CFA Charterholder, past-President of the CFA Society NC and holds a BA in Economics from Davidson College in North Carolina.

Thorsten Michalik
Head of Sales Europe, Middle East, Americas and Wholesale & CEO HSBC Asset Management Germany

Thorsten Michalik joined HSBC Asset Management in 2020 as Global Head of Wholesale & Partnerships and member of the management board of the German entity. In November 2022, he was appointed Head of Sales Europe, Middle East, Americas and Wholesale. In addition, he has also been CEO of HSBC Asset Management Germany since July 2023. Thorsten is member of the global management committee of HSBC Asset Management.

Previously, he held senior positions at UBS and Deutsche Bank/DWS for more than 20 years, lastly as Global Co-Head Distribution for Active, Passive & Alternatives Europe, Middle East and Asia Pacific at DWS. Thorsten has a BA in Business and Management Administration from Polytechnic at Konstanz.

Isabelle Bourcier
CEO of HSBC Asset Management France and Head of Wholesale for France, Benelux & Southern Europe at HSBC Asset Management

Isabelle joinded HSBC in 2022 and has been working in the financial industry for more than 25 years.

From 2016 to February 2022, Isabelle was Head of Quantitative and Index (2017 to 2022) & Head of ETF & Index Solutions (2016 to 2022) at BNP Paribas Asset Management. From 2011 to 2015, Isabelle was Head of Business Development at Ossiam ; one of Natixis Global Asset Management subsidiary specialised in quantitative management & smart beta ETFs. From 2000 to 2010, she was Head of Business Development and Global Coordinator for Lyxor ETF and Global Head of Exchange Traded Products (2006 to 2010), for Société Générale Equity Derivatives Department.

During her career, at Société Générale (1994-2010), in Investment Banking, at Natixis and BNP Paribas, in asset management, Isabelle developed businesses in various countries, being in charge of product development, marketing and sales. Isabelle started her professional career in 1992 as European Editor at Financial Times in the UK. She has a master's in International Management from the Institut Supérieur Européen de Gestion business school.
Find out more about HSBC Group's management structure