Message from our Chief Executive Officer – Nicolas Moreau
HSBC Asset Management's performance remained resilient in H1 2023 in the face of high inflation and a challenging interest rate environment impacting most markets.
Our AUM has reached record levels and stands at USD651bn as of 30 June 2023, up from USD641bn in March 2023 and 9.4 per cent higher year-on-year.
We added USD10bn in net new client money in H1, with long-term inflows standing at USD13.4bn, 22 per cent higher than H1 2022.
According to Morningstar data, we were among the top 10 best-selling asset managers of H1 2023 in Europe.
Our AUM is split as follows: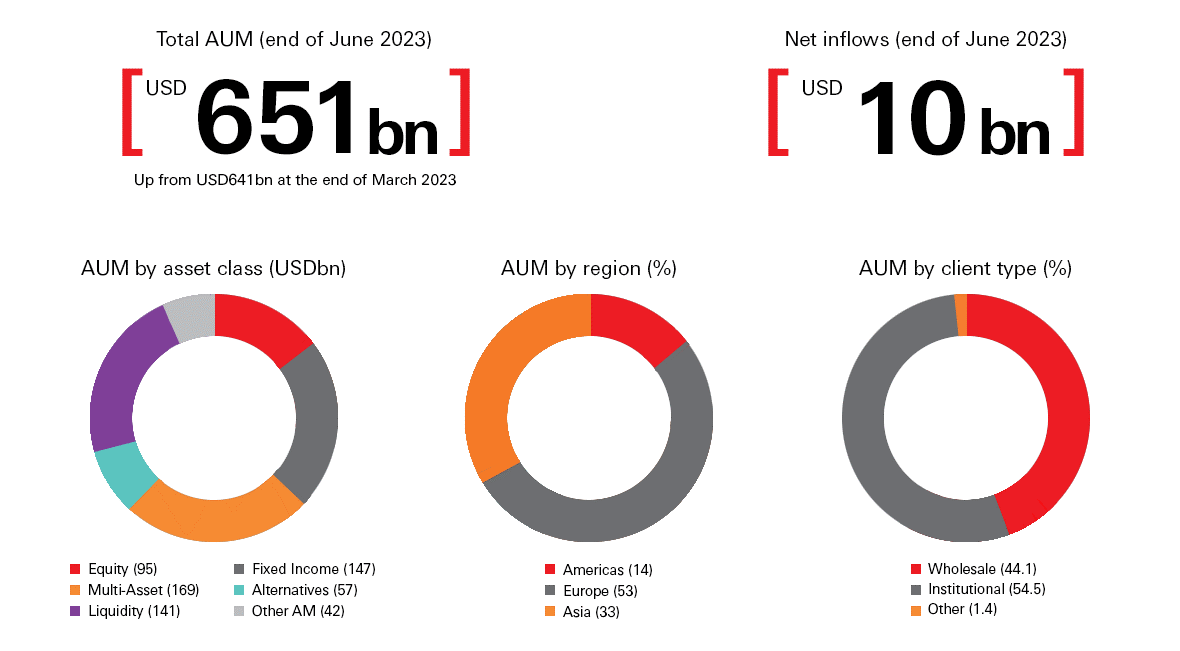 Notes:
1. Assets Under Management are presented on a Distributed (AUD) basis
2. Other in Asset Class refers to Hang Seng (HASE) Bank, in which HSBC has a majority shareholding
3. Wholesale in Client Type includes HASE
4. Other in Client Type represents the assets of HSBC Jintrust Fund Management, a joint venture between HSBC Asset Management and Shanxi Trust Corporation Limited
Key highlights from H1 2023 include:
As part of our focus on expanding our footprint in Asia, we launched the HSBC Multi Cap Fund in India - the first product launch by HSBC Mutual Fund since our acquisition of L&T Investment Management
In Hong Kong, we received a record number of 59 industry accolades for the HSBC Mandatory Pension Fund (MPF). Most notably, it was awarded Scheme of the Year 2023 and the Employers' Choice Award 2023 at the prestigious MPF Ratings awards, having been voted as the most popular MPF scheme by Hong Kong employer customers
We announced plans to launch new ETF share classes within our ICAV fixed income fund range, as part of our commitment to delivering first class investment solutions. The move is an important step in the development of our ETF capability and will provide investors with access to both listed and unlisted share classes through a single fund
We expanded our ESG product range – with new launches including the HSBC MSCI EM Islamic ESG UCITS ETF, ESG Short Duration Credit Bond and the HSBC Euro ESG Liquidity fund – the third in our ESG money market range. We also launched DE&I share classes for the US Government and US Treasury Money Market Funds in the US market, enabling investors to support causes at the intersection of gender, racial and ethnic inequality
Apple announced it had appointed Climate Asset Management, our joint venture with Pollination, to manage an up to USD200m expansion of its Restore Fund, to support a broad portfolio of high-quality nature-based carbon removal projects
We made further progress in our efforts to grow HSBC's alternatives franchise. We announced a Business Transfer Agreement with Green Transition Partners as well as a collaboration with a fintech platform, iCapital, to widen access to our Climate Tech Venture Capital strategy for wholesale clients
Testament to our commitment to Diversity, Equity and Inclusion, we were highly commended for Championing Gender Inclusivity at the FT Adviser Diversity in Finance Awards. In addition, Joanna Munro, Ozge Usta, Stuart White and Xavier Baraton were named in LGBT Great's Top 50 Executive Allies 2023, showing their commitment to leading by example in supporting LGBTQ+ DE&I initiatives
As we enter the second half of the year, we remain committed to meeting our clients' evolving investment needs and making further progress on our strategy to continue to provide market leading investment solutions, aligned to the sustainability transition and growth in emerging markets and Asia.
Thank you for choosing HSBC Asset Management.
Best wishes,
Nicolas Moreau